The cottage offers board or half-board meals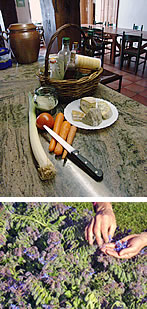 Our cuisine is based on local organic produce, and is adapted to your holiday pace and the time of the day.
The bread (wholemeal, sesame, raisin) is made of organic flour and cooked in a wood-fired oven, the jams and patisserie are home-made and while plants are often most in evidence.
I have banned chips!! And prefer to serve slow-cooked, tasty dishes.
This will be a chance for you to make some discoveries: Cabbage with chestnuts, polenta, nettle soup, potatoes with sage, farmhouse chicken with morels, all served with huge salads (sometimes with flowers) and vegetables.
And for dessert: tarts, crumbles, fromage blanc with red fruits, meadowsweet cream, lemon balm cake, lemon mousse etc.
And vegetarian meals on request....